Warning: when I wrote LONG in the title up there, I meant the post, not the weekend.

So, over the Labor Day weekend (it
was
Labor Day, right?)
we were invited to spend the weekend (with 3 other couples and assorted children) at
Palm Island
on the west coast of Florida.
Now, you don't think the threat of little ole Hurricane Gustav would stop us.
So Saturday afternoon, off we drove through the rain and a few hours later arrived at the ferry to cross the 100 yards of Intracoastal waterway to the island. Yes, folks you read that correctly
100 yards
, the length of a common football field.

AND WE HAD TO TAKE A FERRY!!!

To add insult to injury, it was $55 to cross with the car.

We stayed
he
re
which was definitely not a 5 star hotel, but it was no charge so, you don't hear me complaining. Our room was the downstairs
closet
room. You know, the musty one that is rarely used and smells like your grandmothers linen closet? It did have a postage stamp sized bathroom with a telephone booth shower, which means we had our own
private
bathroom, even thought the lights didn't work.

Now, for all the "fun" we had:

After arriving on the island,$55 dollars lighter and with no map or directions and, of course, no one would answer a cell phone to point us in the right direction. We were screwed. Although the island isn't that big, all the little streets are dirt roads and seeing that it had rained all day they were more the mud bog variety.

After we got settled, we saw an old high school friend. (who just so happened to be visiting the island) He decided that we need to have an official tour. So, off we go in someones (?) golf cart and on to the other side of the island. All of a sudden, there was a torrential downpour and we got totally soaked. (Did I mention there was a Hurricane in the Gulf? Maybe I shouldn't have been surprised!)We had to wait it out in a little hut with aforementioned aquaintance (maybe friend was too strong a word) telling totally inappropriate jokes. (Can anyone say, "Uncomfortable"?)

Later, at the house, it was storming like all get out as the bands came through, but we were drinking and hanging out so it didn't really matter. The good thing? All the bratty kids were next door! Don't get me wrong, I love me some kids but when there are 9 or 10 and they are antsy, I want to send them all to Time Out.

Saturday, we got up and had breakfast and Salty & I took one of the golf carts and did a little exploring on the island. It was crazy windy and the sky over the gulf was just black. I can't say I wasn't a little glad that we missed that hurricane (being on an island and all. With mud bog roads and a ferry to take to get off!)

We got back and then all the families went to the beach. Salty stayed back to nap. Little GL had a kite which we brought to the beach to fly. However, it was unassembled and had about 100 pieces and the wind was whipping about 25 mph.
Nope, no kite flying that day!
Then, we are all sitting in our beach chairs in a cute little row, gabbing away and a giant wave washed up and pretty much soaked all the towels on the ground and about washes away the chatterboxes. That ended that play day.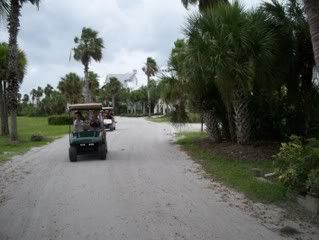 After lunch, we all took the carts out to explore the island (again, blissfully with very few kiddies). We went to a place called Stumps Pass and watched the waves. The sky was black, the water was rough and the breaks farther out were crashing over a little island that is not normally under water.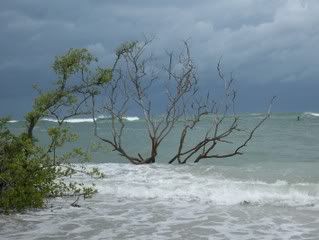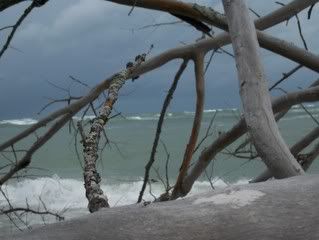 It was raining again, so we headed back and made dinner. Pasta and sauce (or gravy for you diehard italianos), tenderloin and salad. (great, now I am getting hungry)
After dinner, we played Taboo and for once, the girls kicked butt!!! Of course all the little kids had to come in and buzz the buzzer about 40 thousand times. (hello? parents? ANNOYING!) I was about to go insane (thank goodness I was drinking and had a good "buzz" going on).
Later, the girls, Webber, Cat, Keri and I went for a moonlight adventure in the pitch black. Webber drove us all over the island, crashing through puddles and driving down private drives and basically trying to get us arrested. We eventually got lost and were chased by some rabid animal. (doesn't the rabid part just make it that much more exciting?) Keri was kinda freaking out and thinking we were gonna get attacked by some crazed lunatic just waiting for some sweet young things defenseless women to show up. (Did I mention that we were on an island? One that costs $55 to land on? - That one may be a long shot)

Sunday was more of the same. To tell you the truth, I think the above passages were a melding of Saturday and Sunday and now I can't remember it all, (ever read my Duh! blogs?) and now it is all jumbled in my head. But I do remember Monday!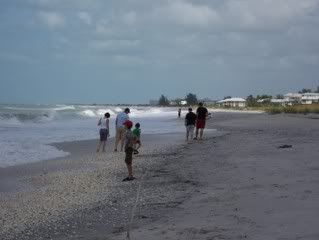 Monday was bright and sunny and we went shelling (yep, that is the crew, looking for shells) in the morning. Due to the bright and sunny part and due to the fact that I have not lived in Florida for the entirety of my 40+ years, I got a nasty sunburn. Dumbass!

Then, we packed it up and drove home. Driving back over the Alley, we only saw 2 gators. I guess they were all hunkered down for the storm.
--------------------------------------------------------------------------
Now, I wasn't gonna post this because it was soooo boring and LONG, but I figured, (1) it was here & (2)I didn't have anything else and you know how blogging goes. Some are winners and some are losers. Too bad you just wasted 30 minutes on a total loser. (plus all this up and down making corrections, was way too time consuming to delete)
Sorry.
Let me know how pissed you are that you wasted all that time; or to tell you just where I lost you.
In other words, leave a comment. Damnit, do it, do it now!